How to Order
International orders are accepted through the following online order form. The shopping cart can only be used for orders shipped within Japan. All international patrons must order using the online order form.
Before sending the online order form please thoroughly read the following instructions.
Order Confirmation
You will receive an e-mail Order Confirmation within three business days of placing your order.(Japan standard time)
About Available Merchandise
! Note
Usually the item ordered will be in stock.
※ However, because the overseas order form is not directly linked to stocked inventory, the item may sell out before your order can be processed.
Because items tend to sell out quickly, we sincerely apologize for any inconvenience this may cause.

If ordered within the specified time frame, special order reserve items will always be fulfilled.
1. Order Form Explanation

Please only use English when filling out the Order Form.

(Even if your country of residence uses another language.)
Product code:

Please input the product code? in the details of the product page.

ex. 000-0000

Color:

Please input the color number described in the details of the product page.

ex. 1: Pink

Price:

Please input the price.
(Described to the details of the commodity page)

ex. ¥00,000

Name:
Please input your formal name concisely.
Payment method:
PAYPAL.
Telephone number:
Please input a telephone number.

ZIP (Postal) code:

Please input the ZIP (Postal) code.
Country:

Please input the name of destination country.

ex. England

Address:

Please input shipping address.

Remarks column

If you are unsure about any part of your order or would like to clarify a specific element of your order, such as color, please do so here.

For example, if you are ordering an item offered in two colors of pink, please specify light pink, dark pink, hot pink etc.
Please order using the above-mentioned mail form and wait for a reply.
This form is for exclusive use by overseas patrons: Click here to access the Order Form.
2. Payment Methods
Please pay according to the instructions in your Confirmation E-mail.
Paypal.
3. Shipping Options and Charges
We will ship your items as soon as we have confirmed payment.
All items are shipped through EMS mail.
For overseas shipping, the patron pays the shipping fee.
Shipping costs depend on the weight and destination of the package.
EMS: Shipping rate table of cost in relation to weight and destination.
As it shipping costs depend on weight and destination we cannot be certain of the total shipping cost until actual shipment date.? We will confirm the actual shipment costs at time of shipment
4. Duties and Taxes
You may be charged a customs fee when you receive your package.
Duty, customs tariffs and VAT are set by the destination country, so we cannot know whether you will be charged or not.
Please be aware of any duties and taxes in your country and pay them if applicable. We apologize for any inconvenience.
5. Customer Service
If there is a problem with your merchandise with your item please contact us within three days of receiving your order.
(E-mail: w-info@marymagdalene.jp)
We will respond and replace your merchandise.
If the merchandise in question is unavailable you will be refunded.
However, we will not accept returns or replacements because of patrons errors such as ordering the wrong color or size, so please check your order carefully before placing it.
6. Sizing
Our items are generally made in Japan women's size 9, which is approximately US misses' size 6. They usually will not be able to accommodate people larger than that.
About Japanese sizes.
Please refer to the image below.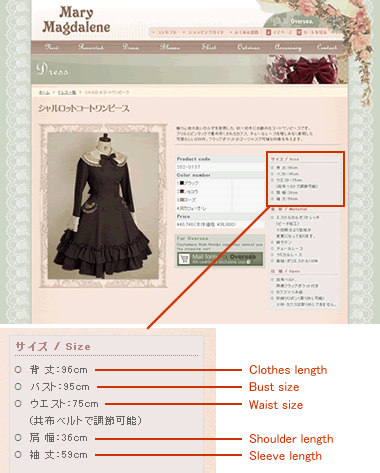 7. Contact Us
If you have any questions please contact us at the following address:
(E-mail: w-info@marymagdalene.jp )
We are closed during weekends and on holidays.
It usually takes up to three days for us to get to your e-mail, but we do our best to reply as soon as possible. Please send your questions a few days before you order to give us time to respond